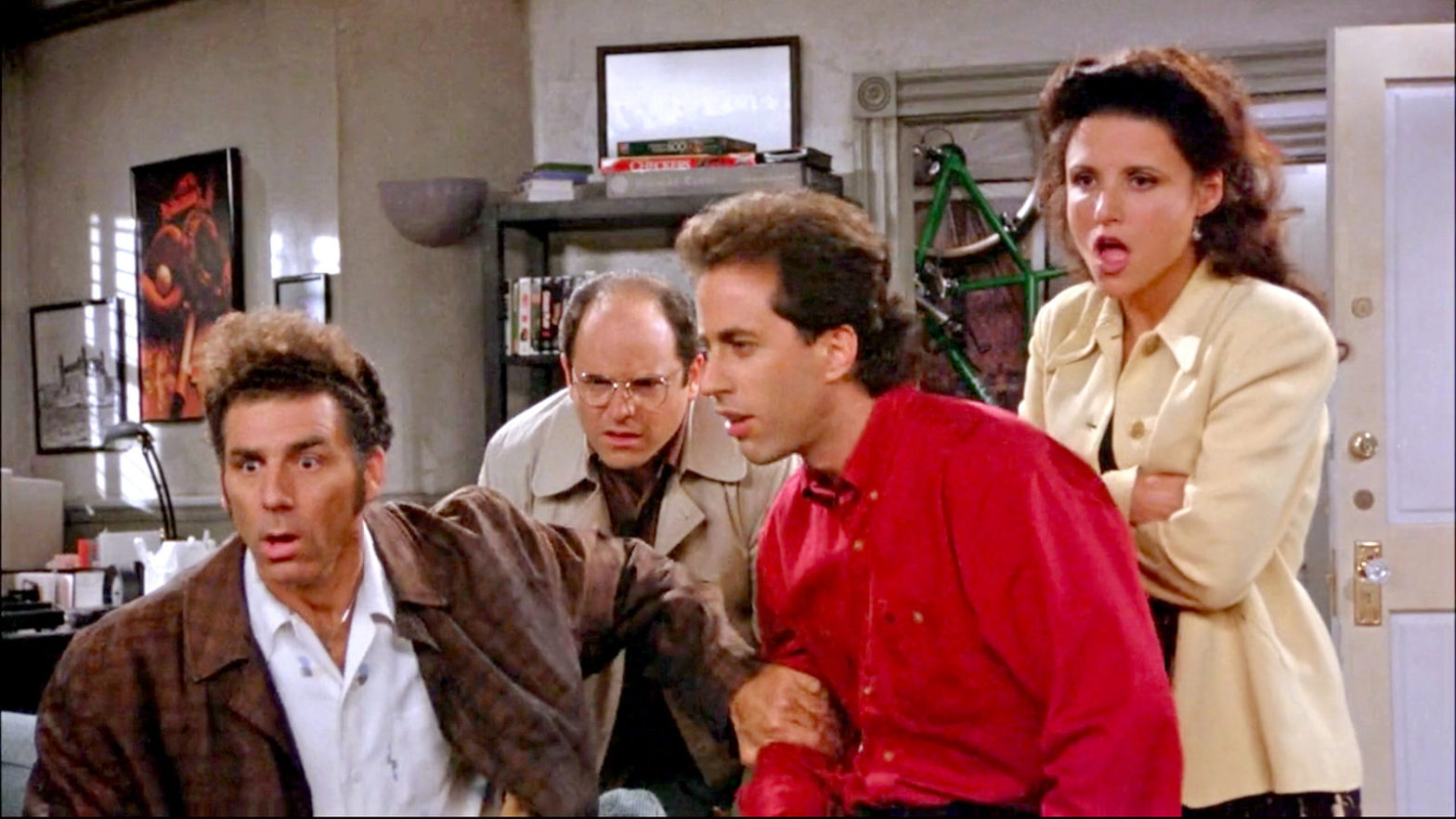 Life-force advocate George Bernard Shaw once quipped, probably after one of his sprightly debates with Roman Catholic author G. K. Chesterton, "When a thing is funny, search it for a hidden truth." Shaw found Chesterton quite funny and also knew that behind that vulgar hilarity was an orthodox Christian faith.
So, I ask, can one find hidden truths of Scriptures in that funny construction called Sitcoms?  Is there a secret giddy relation between sitcoms and Scripture? Or do only British wits like James Cary have such fantastic imaginations that they can find Shakespeare and Solomon in sitcoms and sermons in silly scripts? Have they been watching too many episodes of Father Ted and The Vicar of Dibley and not realized the secularization that has spoiled Hollywood writers? Nah.
Of course, my favorite British sitcom was a neglected gem from the early 1980s entitled Sorry in which a 41-year old bachelor son (played by Ronnie Corbett) resided at home with his parents. It had particular relevance because I was a single man living in southern California with my parents while I wrote my dissertation. The series did teach me how to repent daily for all those trespasses, debts, and sins. Sloth and gluttony were paramount. Sorry.
So I let Cary's ruminations infect my own speculations; yet I remain willing to submit my ideas to funnier people and holier people, who are sometimes the same people. Remember the old 19th-century Anglican cleric, the pious and hilarious Sydney Smith? He could have been typecast in any sitcom, sitting next to Norm in Cheers, scribbling out his own lines, thinking of being in Boston: "What event is more awfully important in an English colony than the erection of its first brew house?" Of course, bartender Sam Malone would have attended to another word in Smith's quote.
Everyone would have known Sydney's name: he was the man who originated the phrase a "square peg in a round hole." Of course, his genial mirth was wrapped in Falstaffian girth and he had the unenvious predicament of being a stout bachelor Bishop and not knowing how to flirt. The most he could say was "I will meet you in the vestry after the service," which is why he concluded that God made three sexes: "men, women, and clergymen." I think graduate student Diane Chambers would have met him in the back of the bar, but that is about as far as poor Sydney would have gotten, ending up sharing an ale with a chubby Norm and an insufferable Cliff. Sorry Sydney.
But the Bible has characters and plots that can emulate classic television comedies. Think of Ruth as Mary Tyler Moore, except the Moabite maiden gets married at the end of the season while the Minnesota maid just gets hugs from her newsroom colleagues. Ruth's first husband dies and she goes to the funeral and sits with her mother-in-law, as if they were looking at the casket of Chuckles the clown after he bit the dust. Ruth's husband barely has a name (it was Mahlon, which in Hebrew means sickly; his brother Chilion who married Orpah, aka Oprah, had a name meaning destruction, so I guess we can find potential comedy at the beginning of the script). Cicero once recommended that if you want people to laugh at the end of your speech, make them cry at the beginning. Comedy thus begins with an obstacle. Comedy thus starts with a man or a woman in trouble. Three dead husbands and Naomi suggests "It's okay to laugh," presciently knowing what is to come.
Mary Tyler Moore throws her cap in the air, knowing that love is all around, and shouts with glee, "okay, your people will be my people; your God will be my God. And are there any eligible men in either Israel or Minneapolis?"
In the latter, only Ted, and Lou, and a married Murray. Mary works hard in the fields and is noticed by everyone. But there may be a Boaz out there somewhere if Rhoda hasn't found him yet. Perhaps Dick van Dyke was Boaz, hiding with walnuts in a closet, tricking Mary over her obsessive curiosity to what is in the package, persuading her, in spite of having two separate twin beds, to warm his feet. The curious thing about women is that in spite of all the male writers, they are funny. Nevertheless, Mary and Ruth join in an iconic duet that asks "Who can turn the world on with her smile?" and ends with a definitive promise: "You're gonna make it after all."
Think of Esther as Lucy. She's gotten herself into a pickle. Neither Esther nor Lucy has to even mention God in the script, but He's there, dispensing justice, showing mercy, reversing fortunes, pulling pranks. Esther has a plan and she tells her best friend, Mordecai, also known as Ethel. Perhaps during Purim, someone should use Lucy's voice for Esther and Ricky's voice for the King: "Esther, I think you've got some 'splainin' to do."
The history of sitcoms parallels the history of the two Bibles. Sitcoms started with families, the Goldbergs, Burns and Allen, Life with Riley. The first season of the Bible, the Hebrew one, is all about families, patriarchs with whom God makes covenants. Except not all the TV fathers are quite as dysfunctional or comic as the biblical ones. Neither Father Knows Best nor The Cosby Show captures the worries and trials of Abraham, who foolishly tries to pass his beautiful wife Sarah off as his sister and then takes her advice to bed Hagar. Abraham and Sarah's lives would fit more aptly, with apologies to Raymond, as Everyone Loves Abraham.
Ozzie and Harriet parallel Isaac and Rebecca, except the Nelsons don't have to worry about sibling rivalry as much as musical opportunities for their boys. The two biblical boys trick each other, dress up as each other, try to out-cook each other, just to get a blessed word from their blind and deaf father, a patriarch who couldn't tell Esau's arm from a hairy lamb. Isaac couldn't smell well either, but a stinking hunter's cologne was enough for Jacob to hoodwink him.
Jacob's own wanderings are more akin to The Many Loves of Dobie Gillis than to Leave It to Beaver, even though his has an older brother Wally who eventually forgives him. However, Jacob does get stuck with Laban for his father-in-law, who is a lot like Eddie Haskell. As Dobie, Jacob meets women in bars, or at wells which are the same things: men quench their thirst, meet women, and get into fights. Moses rescues Zipporah at a well; Eliezer finds Rebecca for Isaac at a well; even Jesus meets a sultry woman at the well who has been drinking with a lot of men for a long time. Then Jacob gets so drunk at his wedding, that he thinks he goes to bed with the beautiful Rachel, but ends up with Leah. Now we are moving towards Friends.
The Hebrew Bible sets up all the right plots. Some may think it just lacks an unleashing of Jewish humor, although puns abound in the book of Amos, sex jokes sneak into Ezekiel, satires of worshipping trees pop up in Isaiah, and parodies of prophets appear in the book of Jonah. An old rabbi friend of mine once told me that the problem that Christians had in reading their Scriptures is that they read it with solemn tones. Try a Yiddish or Brooklyn accent instead of a stentorian television evangelist's voice. Suddenly you will hear the comedy of God's word.
The second Testament is about friends, well, disciples anyway, and the odd people that the writer Luke mentions in his travels through Acts. Just as sitcoms wandered from domestic situations into workplace and recreational settings (e.g. The Office to Parks and Recreation) and introduced quirky characters, so the adventures of Peter and Paul have comic potential.
Think of Peter, released from prison, and coming to the house of Rhoda to celebrate his freedom. The people praying for him will not believe the servant girl who announces he is at the door. They haven't finished praying. Peter has to stay locked outside, like Fred Flintstone at the end of every episode, knocking to be let in.
Think of all comic complications and escalation of the Man Born Blind having all the obfuscations of a Dunder Mifflin Office script, with Michael and Dwight as the Pharisees obsessed with logic and Pam speaking a simple truth directly into the camera. The New Testament story begins with Jesus spitting and putting mud in a man's eye. Like the man declaring simply that he was born blind, but now he can see, the receptionist Pam speaks from the heart, even when she is drunk at the annual Dundies' award show at Scranton's local Chili restaurant and wants to thank God: "And I feel God in this Chili's tonight." The man who could now see and the woman who could feel recognize something wonderful. They recognize the presence of God, no matter what state they are in. (And we must not forget that when Jim Halpert surprises Pam her by asking her out to dinner, she pauses, grins, and exclaims: "Sorry, what was the question?" Even confronted by love, she apologizes and rejoices simultaneously.)
Literary critic Northrup Frye described the Bible as a U-shaped curve, beginning in Eden, wandering through wilderness, stumbling through sin, and hitting bottom not only with the destruction of the Temple, but Jesus' death on a Cross, until rising to new life in a New Jerusalem. The U-shaped curve was the shape of a deep comedy, similar to how poet Philip Larkin described all plots as "a beginning, a muddle, and an end." The Bible and the sitcom share a similar structure: it looks like a grin in both cases.
The sitcom follows an old pattern of equilibrium to disequilibrium back to equilibrium, using all the basic routines, sketches, physical humor and pratfalls, and witticisms that give us a photograph of characters that we know. They are similar to the biblical characters that Presbyterian writer Frederick Buechner has called "peculiar treasures," the clay vessels that God fills with His Holy Spirit, making that amazing oxymoron, spiritual animals.
Perhaps it is Larry David and Jerry Seinfeld's commitment to the book of Ecclesiastes, in which there is nothing new under the sun and you might as well make a sitcom about it, that we find a theological foundation for modern television comedies. And we might find hope in adapting Jerry's line: "the whole reason you watch a TV show [or read the Bible] is because it ends. If I wanted a long, boring story with no point to it, I have my life." Happily enough, reading the Bible not only has a comic ending, but it remakes our miserable lives as comedies. (And remember, "miserable" is best translated as "needing mercy.")
Receptionist Pam Beesly's final line in the finale of The Office helps us conclude this reflection, "There's a lot of beauty in ordinary things. Isn't that kind of the point?" We might go one step further. "There's a lot of comedy in the Bible and grace in sitcoms, but isn't that the point?" God seems to sneak His truths in everywhere, even as James Cary has suggested, into Writers' rooms. Funny things do have hidden truths, maybe even eternity in a grain of sand. No need to be sorry for that. In fact, I suspect Liz Lemon would say, "I want to go to there."
---
Terry Lindvall (PhD University of Southern California) occupies the C. S. Lewis Chair of Communication and Christian Thought at Virginia Wesleyan College. He is the author of six books, including Celluloid Sermons, Sanctuary Cinema, and The Mother of All Laughter: Sarah and the Genesis of Comedy.
-->