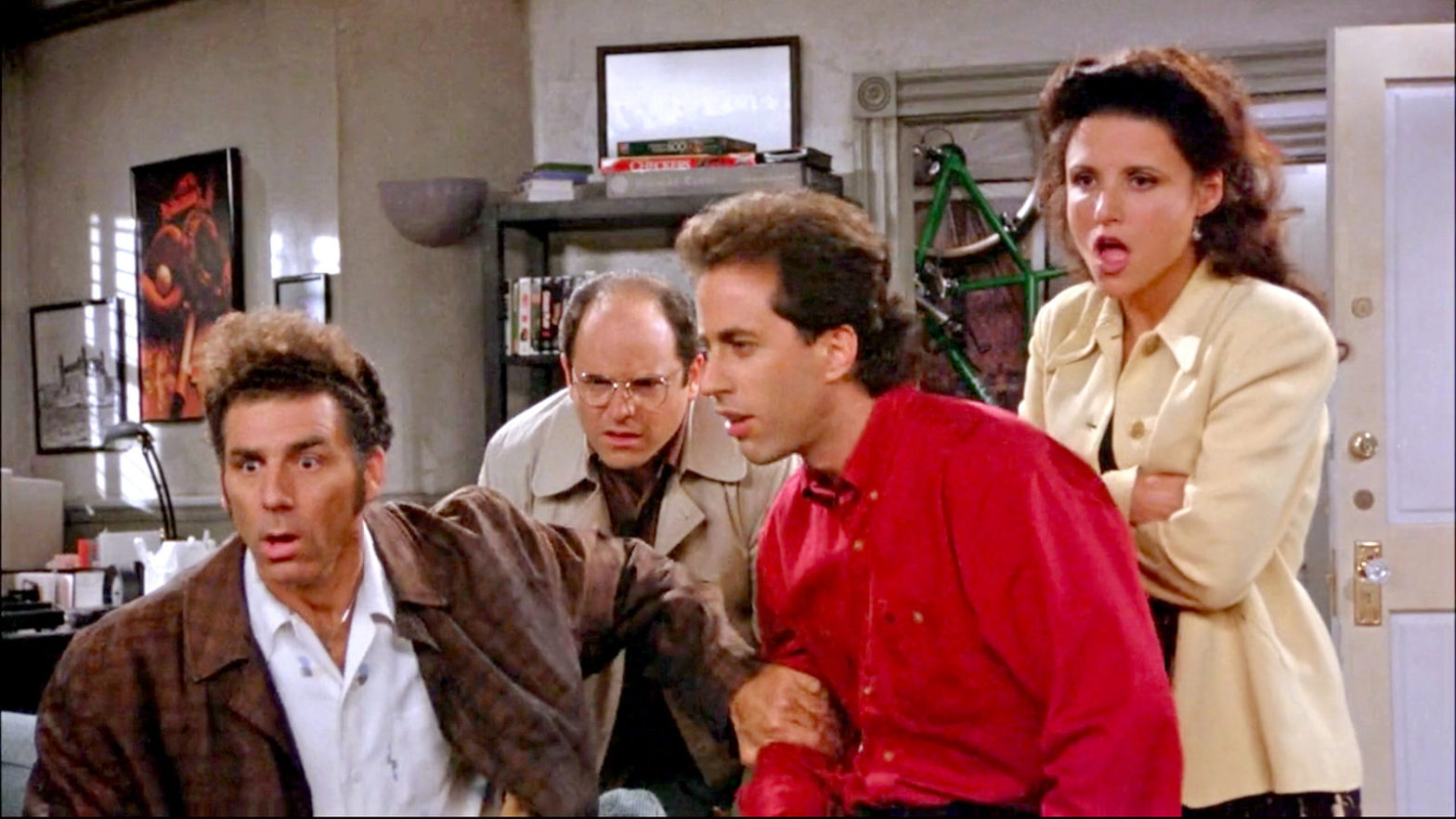 What could be less Christian than a sitcom? A bunch of fools sitting around talking about their folly, and then going out and doing it. We see the edited, comic consequence of their sins, and are expected to laugh? How is that edifying, or even entertaining? Of course, everyone makes an exception for their favourite show, like M*A*S*H, arguing that it's a classic, and that it's so good, it hardly qualifies as a sitcom.
Even in sitcoms, people have a low view of sitcoms. When Jerry Seinfeld self-referentially gets the chance to pitch a sitcom to NBC in Season 4 of NBC's Seinfeld, George jumps on board. He pitches Jerry a show about nothing and says he should go in to NBC with Jerry. Jerry notices George's use of "We" and says "Since when are you a writer?" To which George scoffs "Writer? We're talking about a sitcom." Sitcoms are a contemptible form.
As someone who's been writing sitcoms for the BBC for twenty years, you wouldn't expect me to hold to that view. But, like all things comic, it's complicated. In fact, you can't spell complicated without using the letters C-O-M-I-C, but where does that get us? Nowhere.
You see? I'm a comedy writer. I'm a lightweight. I'm just good for gags and wordplay, wisecracks and dead ends. As Tom Lehrer said of Gilbert and Sullivan, "full of words and music but signifying nothing."
Lehrer was, of course, co-opting Shakespeare's words written for a Macbeth soliloquy. It's a speech I've always loved, because the words are stunning. It begins, "Tomorrow and tomorrow and tomorrow creeps in this petty pace from day to day." Wow. Say that out loud a few times and you'll tingle. Two lines later, he uses the phrase "all our yesterdays" which is so beautiful to me for reasons I can't fathom, it almost makes me want to cry.
Why do I invoke Shakespeare? Partly to sound clever. It works for Frasier. And, like Frasier, I've always had a chip on my shoulder about not being bright enough ever since I failed to get into Cambridge, not just once but twice. I still have the rejection letters somewhere. (Actually, that's a lie. I know precisely where they are.) I bring up Shakespeare because those who love his work know one thing that runs under the language, wit, story and drama. Shakespeare understands people.
We often quote Shakespeare. But we're not quoting Shakespeare, but Lady Macbeth, Hamlet or Juliet. We know very little of what Shakespeare himself thought. Just because a character in a Shakespeare play says something, it doesn't make it true. It just feels true or has some resonance for that character in that moment.
If Shakespeare has much to teach us, how much more does God's inspired and inerrant word? Earlier, I mentioned a bunch of fools sitting around talking about their folly. The Bible gives us insights into all kinds of follies, which leads me to suggest that far from being unchristian, sitcoms are intensely Christian.
Sitcoms are morality plays about fools, many of which can be found in the pages of ancient scripture. Remember Norm Peterson from Cheers? Just mentioning that name to anyone over the age of 40 will probably makes you want to shout "Norm!" You think of those great exchanges with Coach or Woody.
Woody: Hey Mr. Peterson. Jack Frost nipping at your nose?
Norm: Yeah. Now let's get Joe Beer nipping at my liver.
Norm's a literal proverbial sluggard. He spends all his time sitting around drinking beer, doing nothing. He's a pathetic figure. And yet we love him.
The full gamut of Bible fools can be found in great sitcoms. You have the mocker (Hawkeye), the haughty (Niles/Frasier Crane), the thief (Sergeant Bilko), the harlot (Ros from Frasier), the coward (George from Seinfeld, Chandler from Friends), the glutton (Joey from Friends) and the princess (Rachel from Friends).
In many ways, these characters are no different from the people we find in scripture, from Nebuchadnezzar to bickering disciples to Job's faithless friends. The Bible tells story after story of fools making foolish decisions, often in a way that is grisly or disgusting. We can give thanks we have only an inspired written word, and not pictures or videos.
Some Christians are vexed about the vulgarity, lewdness and violence of Game of Thrones (with some justification). Although the books and TV show have some basis in the War of the Roses in England, even a 15th century dynastic struggle didn't lead to a claimant to the throne sacrificing their daughter to flames in order to win a battle, as one character does in George RR Martin's Westeros. But the Bible has something similar. Look up Jephthah in Judges where you will find that he has his daughter sacrificed. Is this story even more tragic, given that he is already victorious?
This isn't, of course, funny. It's tragic. That said, plenty of things that are tragic in part become funny after a while. Comedians often quote a formula: Comedy = Tragedy + Time. By that standard, the book of Job is hilarious. It's really tragic, and it was ages ago. Apart from the resemblance to a sitcom, in which foolish characters sit around offering terrible advice, there are other comic elements if your read the text with a mind open to comedy. The way in which the tragedies are announced and heaped upon Job is surely comic. Servants replace each other with news that is comically, almost hyperbolically, catastrophic.
Could pointing this out be deemed to be in poor taste? But what is taste? It's a slippery word that means you can shut someone down, impugn someone's motive and cast aspersions on their godliness without having to be specific. The biblical version of this is what I call "The Philippians 4 manoeuvre," which I explain in my book, The Sacred Art of Joking. It's easy. If you find any comedy or media content you find difficult, unsavoury, lewd or objectionable, simply quote Philippians 4:8, "whatever is true, whatever is honourable, yadda yadda yadda". Do this and the person who is making the joke will feel a pleasing and debilitating sense of shame. And you win.
I'm being facetious, but only a little. And I'm comedy writer. I'm professionally facetious. But I have a point to make, which is this: modern Christian standards of what is and is not acceptable in comedy are highly subjective. They say far more about us and our own hearts than the Bible or anything else.
In fact, we find the Bible to be too lewd. Sometimes we even remove scatological words with more euphemistic translations. For example, in the Old Testament, you will find an expression about men who are described as "those that piss against the wall." You won't find these words in modern translations, mostly because we don't like them. Bible translators, with some cajoling, will argue that the phrase was only there to denote gender, even though other words for "men" were available and not used. We could argue that these translators have literally taken the "piss" out of the Bible. But merely using that word in a jokey context will enrage some readers.
Why? There are, of course, Biblical injunctions not to be filthy or speak foolishly or coarsely. Others might argue that I may have freedom to use certain words but that I should not laud this over others. But what does that look like in discussions about comedy? Or in comedy itself? Even if that comedy had a purpose.
Can you imagine the reaction to Jesus telling the story of the Good Samaritan? For some it would have been glee. Jesus was sticking it to the priests and Levites who, for all their claims of moral superiority, passed by on the other side of the road. For others, Jesus's generalising would have been called "problematic." Well-meaning followers would probably have sidled up to Jesus later, pointing out that, while they enjoyed the overall parable, of course, they feel bound to point out that not all priests would have behaved as the priest did in the parable. And that not all Samaritans are as saintly and kind as the one depicted. And that reinforcing stereotypes is unhelpful. And that he should refrain from doing so in the future.
Others opposed Jesus more overtly. It's always worth remembering who the bad guys are in the gospels. The bad guys are the good guys. They are the popular moralistic elites who were admired and highly esteemed, by some at least. But these are the people who witnessed the things Jesus said and did and shook their heads, calling the Incarnate one who was without sin a drunkard, a glutton and a Sabbath breaker.
And yet Christians today are in danger of being those who unwittingly have a similar attitude. We look at God's word, and we find it to be troubling, rude and offensive. So we don't preach on those bits. And we find commentaries to explain why the really difficult parts are probably nothing to worry about.
If Christians do this with God's inerrant word, how will they react to a sitcom, in which fools commit acts of folly and make jokes about it, all to that terrible cackling sound of human laughter?
As usual, the true scandal is not comedy, but grace. The grace of God continues to confuse and appal us. We are staggered to read Jephthah's name in Hebrews 11:32 as a hero of the faith. What's more, he's there alongside Gideon, Samson and David. Gideon who, let's remember, responded to the call of God with evasion and cowardice (as did Moses). Samson need know encouragement to beat up Philistines but conducted himself in a very boorish manner. And David, the high-point of Israel's kings, a man after God's own heart, is an adulterer who arranges for his new girlfriend's husband to be killed in the front line of battle. And these shameful deeds can be found smack in the middle of the curtain raiser for the new Testament in the genealogy in Matthew. Uriah's wife was Solomon's mother. There it is, plain for all to see.
Is that funny? Or is it embarrassing? It's both. And that is the paradox at the very heart of human existence. We see it threaded through the Bible. Mankind is not lovely. And yet God loves us. We love the light, but we hate it too. We are all bags of contrasting emotions and desires. We can identify with Paul's lament about doing the very thing that he hates.
That's what sitcom characters typify – being trapped in a never-ending cycle of repeating folly and failure, based around character flaws. Christians know the only way out of this cycle is the intervention of God's grace, the gift of faith and the work of the Holy Spirit. But we do not change overnight. Change is normally slow, which is why Christians and non-Christians alike can relate to stubborn, bickering brothers in Seattle called Frasier and Niles. We instinctively understand why Jerry, George and Elaine fall for Kramer scams week after week. We get why Norm Peterson's spot at the end of the bar is both a symbol of his freedom, his place of escape and his prison cell.
Comedy requires soul. To understand why something is comic, you have to understand how things should be as opposed to how things are presented. That's how we are wired. Maybe it's related to being an image-bearer of God. Maybe it's because God has put eternity into our hearts. But we know how the world should be. And we like to see the world put to right, just ever so slightly, for 21 minutes every week.
Sitcoms are intensely moral. A big lie told at the start of the episode will be exposed by the end of the episode. A proud and pompous idiot will be brought low. The lazy will be given a nasty shock, or at least receive a penalty for their laziness.
It's a difficult trick to pull off. Believe me. I've written or co-written over a hundred half-hour sitcom scripts for the BBC. You're trying to come up with a plot twist in the final act that is both surprising, but retrospectively inevitable. It needs to be satisfying but not twee. It needs to be apposite, but not too neat. It normally takes a while, but you know it when you find it. You have restored order to your made-up universe, although it's never quite same again.
Sitcoms are so Christian that the only question on my mind is whether sitcoms can survive without Christianity. The theological underpinnings to all our cultural assumptions, our desire for justice, order and reconciliation, are undoubtedly Christian. Think of the boy played by Fred Savage in The Princess Bride, who yells at his grandfather (Peter Falk) "I'm telling you, you're messing up the story!" For how much longer will children insist on the right story once generations of secular educated have eviscerated the Judeo-Christian worldview? What will post-Christian existential sitcoms look like? They may be interesting, they may be well directed and very very expensive to make. But I'm pretty sure they won't be funny.
This is why sitcom isn't just profoundly Christian. It might be the most Christian of all.
---
James Cary is a sitcom writer for the BBC TV (Miranda, Bluestone 42) and Radio (Hut 33, Think the Unthinkable). He is the author of The Sacred Art of Joking (IVP/SPCK) and is a member of the General Synod of the Church of England and The Archbishops' Council. He lives in Somerset, UK with his wife and two daughters.
-->