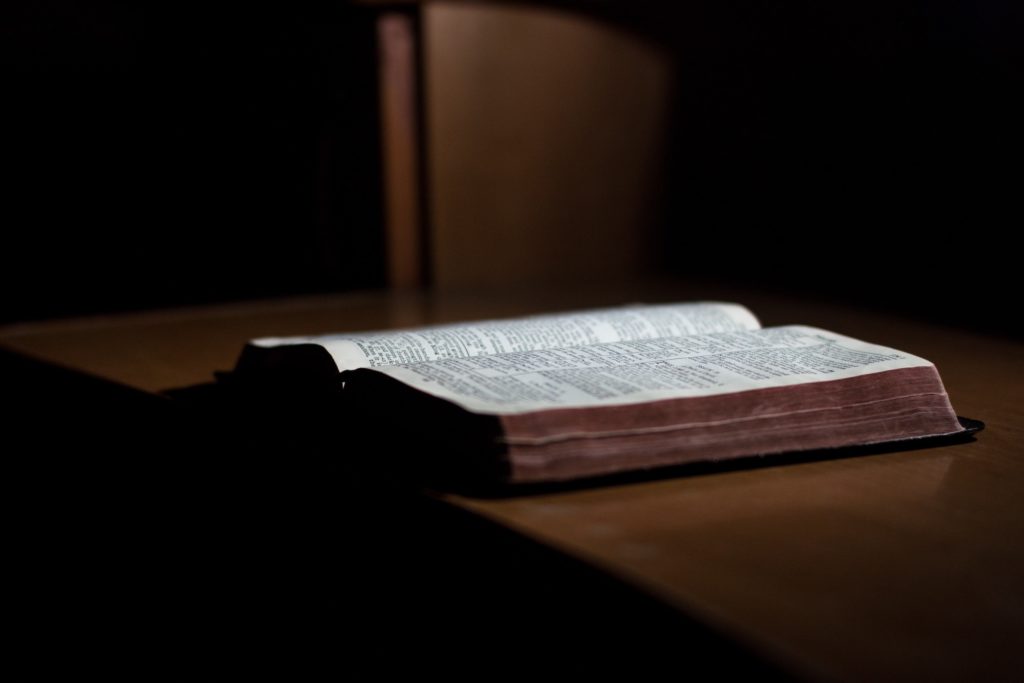 Peter Leithart wants us to read Scripture typologically, and he wants to do so well. Leithart's desire is not an unreasonable one. Moreover, it is a thoroughly Biblical one. The NT authors wrote typologically (as Leithart shows). And, by that token, their texts should be read typologically. Fine.
But, of course, not all typological interpretations of Scripture are equally valid. We've all, I'm sure, encountered typological interpretations of Scripture which have enlightened and enlivened our souls. Yet we've also, I'm equally sure, encountered typological interpretations which have served only to confuse. (Indeed, I've proposed a few myself.) How, then, to distinguish between the two?
The answer is not, Leithart says, by recourse to a rulebook. We don't learn to speak by means of a rulebook. Rather, people speak to us, in the wild. And, by means of trial and error, we learn to understand them and to speak back. In other words, we learn to speak by means of communion with others. And we should learn to read Scripture, Leithart says, in the same way. We should surround ourselves with gifted readers who are able to correct our many mistakes and to show us a better way to read. In addition, and more vitally, we should live and read in close communion with Scripture's divine author. When Christ the Word dwells in us, Leithart says, we will receive the written word rightly. The Spirit will point us to the Model Reader, and we will read as Jesus read.
As attractive as such a notion may sound, however, it leaves many questions unanswered—which is convenient, as it gives us something to talk about.
Beware of gift-bearers
The first question we might like to consider is how we are supposed to identify 'gifted readers'. Leithart says the early Church frequently made mistakes when they read typologically. Yet how does Leithart know the early Church made mistakes? Leithart and his community no doubt read Scripture differently to (certain communities in) the early Church. But how does Leithart know his community is right and (some of) the early Church's mistaken? Or, to put the question a different way, How does Leithart know the people he takes to be gifted readers really are gifted? Maybe Leithart and his community simply aren't gifted in the identification of gifted readers, and need a more gifted community to loan them gifted gifted-reader-identifiers.
Perhaps, as a cheery post-millennialist, Leithart takes courage from the text Ephesians 4.11–13, and is confident all his typological mistakes (together with mine) will come out in the wash. But it is surely possible for communities to regress in their knowledge and interpretation of Scripture. And, in the present age, each individual in the Church has a duty to test all things and to hold fast only to what is true (1 Thes. 5.19–21).
Do all speak in tongues?
Here, Alastair Roberts' contribution to the conversation seems helpful. The believer, Roberts says, is not in the same position as the child who acquires fluency in his native tongue as he grows up. None of us are native speakers of Scripture. And all of us are surrounded by a mass of different 'speakers of Scripture' and are hence faced with a multiplicity of possible examples to follow. As a result, we are not so much children in a community of native speakers, but a community of individuals who want to acquire fluency in a foreign tongue in the absence of native speakers. True, our task is superintended by the work of the Spirit and guided by the example of Christ. But, sadly, we do not always discern divine guidance with the same clarity as, for instance, a child discerns the voice of those who dutifully correct his grammar.
Rather, then, than compare ourselves with such children, we might do better to compare ourselves to, say, speakers of modern Hebrew who suddenly find themselves confronted with the Hebrew Bible. Much of what such a speaker would encounter in the Bible would seem familiar to him, yet it would nevertheless seem foreign and strange, just as much of the Bible does to a believer.
With these considerations in mind, I wonder if some of Leithart's concerns about rules can be allayed. Recall our modern Hebrew speaker. Confronted with the Hebrew Bible, our speaker would naturally bring certain expectations to the text. But he wouldn't (or at least shouldn't) bring a set of preconceived and inviolable rules to it. Rather, our speaker would study the Biblical text and figure out (roughly) how it hung together and what it meant. And he would only later, on the basis of his study and comprehension of the text, start to think about the formulation of rules and the like. His proposed rules would, therefore, be driven by his comprehension of the Biblical text rather than vice-versa. They would seek to capture regularities and general principles, yet would at the same time (one would hope) allow for exceptions, which would form the basis of, say, lists of irregular verbs. (Such is the approach adopted by descriptivists who want to understand certain quirks of Biblical Hebrew, such as the so-called 'narrative-tense/vayyiktol-form'.)
With these thoughts in mind, I would like to turn my guns on James Hamilton.
Why subject ourselves to rules and ordinances?
In his contribution to the conversation, Hamilton articulates a requirement for a sound typological interpretation of Scripture. Authors, he says, should be understood the way they intend to be understood. The divine author of Scripture has communicated his intention by the creation of a similar intention (the same intention?) in the human author. Hence, if we can discern the intent of the human author, we can identify the intent of the divine author.
While I applaud Hamilton's desire to set forth a concrete principle/requirement for the proper typological treatment of Scripture, I have worries about the specific principle he has set forth.
My first worry is conceptual. If, by means of my actions, God can accomplish a thousand good things I don't intend—as he surely can—, then why, by means of his inspiration of human authors, can't God intend things those human authors don't intend? And, if God could do such things, then how does Hamilton know he hasn't?
My second worry is Biblical. If we want to propose a principle for the proper typological treatment of Scripture, then the majority of our divinely-sanctioned examples of typological interpretation—i.e., cases where the New Testament interprets the Old—should satisfy our proposed principle. In the case of Hamilton's principle, however, I'm not convinced they do.
Consider, for starters, the first couple of chapters of the NT. In chs. 1–2, Matthew interprets Jesus' life as the fulness/fulfilment of Isaiah 7–8 and Hosea 11. But do Isaiah and Hosea intend their texts to arouse Messianic expectations in their readers? It doesn't seem so. In 7.14–16, Isaiah speaks about a young woman who will bear a son whose birth will usher in the desolation of Syria and Samaria. And, soon afterwards, a prophetess bears Isaiah a son whose birth does usher in the desolation of Syria and Samaria (courtesy of the Assyrians: cp. Isa. 7.4–9, 14–16, 8.3–4, 9.6 w. 2 Kgs. 16–17). Isaiah doesn't, therefore, seem to want his readers to see his prophecy as part of a pattern of events with a later Messianic fulfilment. Or, to put the point another way, had Matthew not interpreted Isaiah 7 Messianically, I doubt Hamilton would encourage us to do so.
The same can be said for Matthew's interpretation of Hosea.  Hosea's reference to the exodus in 11.1 seems largely incidental.  In order to emphasise Israel's unfaithfulness, Hosea contrasts her present (fallen) state with God's graciousness to her at the time of the exodus—, on the basis of which Hosea announces Israel's exile.  Like Isaiah, then, Hosea doesn't seem to want us to see his words as part of a Messianic pattern.  (Such examples can easily be multiplied.)
My third worry with Hamilton's principle is related. In order to discern the intent of human authors, we need to consider their texts in their broader canonical context, which (happily) is what Hamilton does in his treatment of Rahab and the Scarlet Cord. While I whole-heartedly endorse Hamilton's treatment of Rahab's story, however, given Hamilton's proposed principle, it seems problematic.
Hamilton talks freely about what 'Joshua' intends his readers to understand. Yet how does Hamilton know Joshua wrote the book of Joshua? And if, for Hamilton, 'Joshua' simply functions as shorthand for 'the author of Joshua', then how does Hamilton know how much Scripture 'Joshua' was aware of? And, if he doesn't know how much Scripture 'Joshua' was aware of, then how can he talk about Joshua 2–6's canonical context with any confidence?
The problem becomes even more acute when we consider other texts. Many of the Bible's historical narratives are anonymous (e.g., Joshua, Judges, Ruth, Samuel, Kings, etc.), as are many of the Psalms. And many of the Prophets are extremely hard to assign to a specific location in space and time. As a result, we know very little about many texts' human authors and, by extension, about those texts' canonical contexts.
By way of contrast, we know a great deal about the divine author of Scripture. We know he wrote all of the Pentateuch, all of Joshua, all of Judges, and so forth. We know how he operates in history, and how he operates in our daily lives. We have a large sample of his compositions to study—more than we do for any other ancient author. And we know what kind of things move and concern him. Better still, as Leithart points out, we have the Spirit of God implanted within us. Consequently, to sideline such facts and instead seek to infer God's intentions on the basis of our fragmentary knowledge of the Bible's human authors seems misguided.
And yet, for all my criticism of it, Hamilton's principle seems too sensible and intuitive to entirely discount. Perhaps, then, it could be softened into a principle which allows the typological treatment of Scripture to extend beyond the intentions of its human authors, yet still requires the text to be interpreted in a way which is consistent with its original premise and spirit.
Such a principle could, I submit, accommodate Matthew's treatment of Isaiah and Hosea, and yet could still impose significant and helpful constraints on the typological treatment of Scripture.
By way of example, I would like to criticise one of Alastair Roberts' typological interpretations, since I would not want him to feel left out.
In 'Echoes of Exodus'—a book which I highly recommend—, Roberts likens the Philistines' capture of the ark to the sacrifice of Christ (cp. 1 Sam. 5–6). The ark, he suggests, substitutes for the nation as a whole and goes into exile. While Israel remains in the land, God takes on the consequences of their failures, as he will later do on the cross.
On one hand, I can see the appeal and logic of Roberts' proposal. Yet I am not convinced by it. That the alternative to the ark's capture is the exile is not clear to me. (Israel will suffer many more defeats before the exile finally takes place.) Furthermore, the text of 1 Samuel portrays the ark's capture as a punishment, which is why the Israelites rejoice when the ark is returned (1 Sam. 7). To liken the ark's capture to Jesus' sacrifice therefore seems out of kilter with the spirit/premise of Samuel's narrative. It takes an incident where God distances himself from his people in order to punish them for their idolatry (cp. 7.3–9) and posits as its fulfilment an incident where God reconciles himself with his people in order to bless them despite their sin, which seems somehow improper.
Finally brethren…
In sum, then, my sentiments are as follows.  I appreciate and have been encouraged by the spirit of Peter Leithart's conversation-starter.  I have benefited from the various nuances Alastair Roberts has brought to bear on the topic.  I appreciate James Hamilton's introduction of a concrete example and principle to our discussion.  And I have sought, for my part, to soften Hamilton's principle into one which I find more workable.  Needless to say, however, the acid test of any principle must be its compatibility with Scripture's own typological interpretations, which remains to be demonstrated in the present case.
---
James Bejon attends a church in Romford, London, where he fellowships, is taught, and teaches. He presently works at Tyndale House in Cambridge (https://academic.tyndalehouse.com), whose aim is to make high-quality biblical scholarship available as widely as possible.
-->