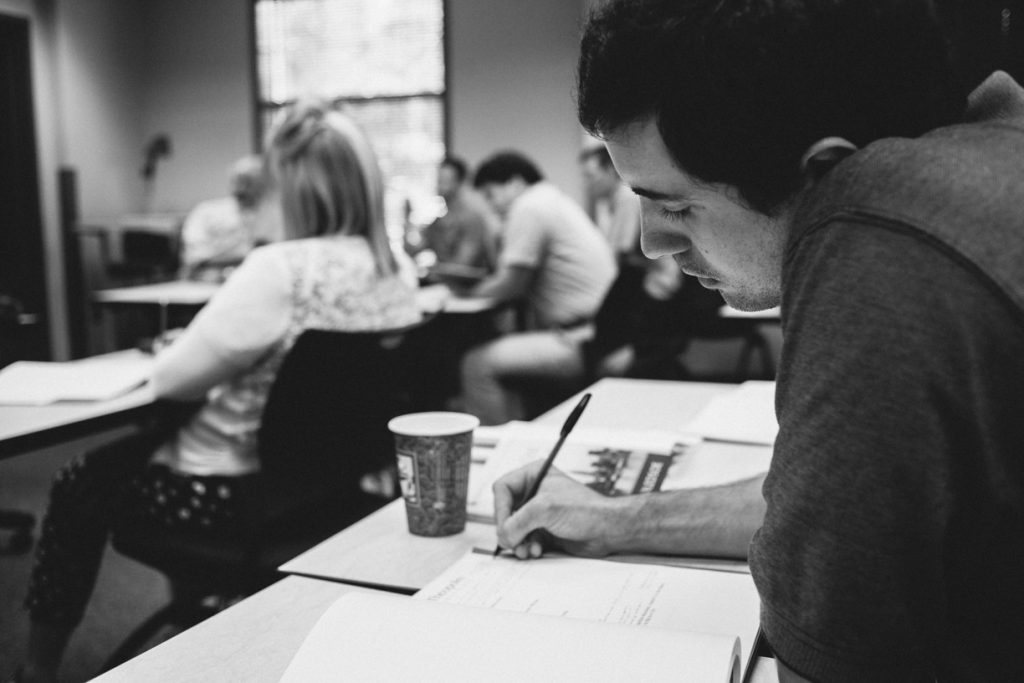 Culture-makers, not caretakers.
The church has faced many challenges in her two thousand year history. Bishops and priests evangelized Romans and barbarians. Adventurous monks settled on the frontiers of Europe. Bold missionaries traveled to the remotest peoples on the planet.
Never before, though, has the church been called to ministry in a society once Christian but now secular. Never before has she carried out a mission to a post-Christian world.
The church is God's urban renewal project and today the church needs leaders who will renew God's city to transform the world's cities. We do not need complacent caretakers. Today, the church needs visionary culture-makers.
Beginning in September 2017, the Theopolis Institute will admit 12-15 each year to our year-long leadership training program.
We will equip you for imaginative, courageous leadership in the church of the future. We will teach you the whole Bible. We will explain how baptismal water, Eucharistic bread and wine, and liturgical prayer change the world. As a Junior Fellow, you will learn the war songs of the Lamb and gain practical ministry experience. You will visit unfamiliar churches and learn how businessmen and professions work their faith into their work.
We will not take it easy on you. We hope it feels like boot camp. When you are done, however, you will have the tools you need to be a servant of God's future city among the cities of this world, and a plan to use them.
What will I do in the program?
Bible. Liturgy. Culture.
Through lectures, readings, seminar discussions, and written work, Junior Fellows will learn the entire Bible in depth, master the fundamentals of liturgical theology, and engage with critical cultural issues and thinkers. Junior Fellows will receive practical training in worship and will learn the Psalms.
Apprenticeship
Each Junior Fellow will be assigned a mentor who will guide him or her through the program and provide pastoral counsel. In our intimate, small-enrollment program, Junior Fellows will receive personal attention and hands-on guidance.
Visitors Program
Pastoral students often study in isolation from other Christians, detached from the church and ministry. To remedy this, each Friday Theopolis will invite pastors and businessmen, policemen and scientists, engineers and physicians, attorneys and political leaders, theologians and leaders of mercy ministries, accountants and teachers to discuss the challenges and opportunities their vocations offer as they seek the peace of the city where they live.
Immersion
During the first semester, Junior Fellows will spend several days immersed in Birmingham's most effective ministries and Christian organizations. Immersions will inspire Junior Fellows to imagine their future work, and provide living examples of innovative ministry models.
Internship
During the second semester, Junior Fellows will devote ten hours a week to volunteer work at an approved local ministry, business, professional office, or church. Immersions will inspire, but ministry takes place in the slog of small-scale day-to-day labor. Through their internships, Junior Fellows will get a flavor for the work of ministry.
Practical Catholicity
Theopolis is committed to striving to overcome the church's divisions. We aim to train pastors who have both a catholic vision for the church and real-life experience with Christians from other traditions. To prepare Junior Fellows for future catholic ministry, each will be required to get involved in a local church outside their own denomination.
Why not seminary?
Theopolis does not offer a complete seminary program, but it does offer some important things that seminary does not. You will study the Bible in more depth in a year at Theopolis than you will in some longer seminary programs. Many seminaries neglect liturgy both in theology and practice, but the Theopolis program will be embedded in weekly liturgical cycle and will devote attention to liturgical theology. Seminaries teach on cultural issues, but these are not always integrated into the main seminary program. At Theopolis, we keep cultural questions in view even when teaching Bible or liturgy.
Seminaries sometimes detach students from the church, from involvement with Christians in the workplace, from practical ministries. The Theopolis program is designed to plug students into churches, to deepen their sensitivity to the challenges of Christian living in the world, to provide opportunities for ministry experience in ecumenical settings.
A year at Theopolis can supplement full seminary training. Our program could serve as pre-seminary preparation, or post-seminary capstone. It provides a component of pastoral training for those students who are following a non-traditional route to pastoral ministry by supplementing online courses with in-person instruction and training. It offers leadership training and seminary-level theological instruction to lay Christians who seek to serve Jesus in non-pastoral vocations.
Sample weekly schedule for Junior Fellows. (Click to Enlarge)
Sample Semester Schedule for Junior Fellows. (Click to Enlarge)
Who is qualified to be admitted as a Junior Fellow?
Men and women from every Christian tradition are welcome to apply for admission as Junior Fellows. Each applicant must be endorsed by a local church and submit a letter of recommendation from a pastor or elder, and each will go through an intensive pastoral interview from Theopolis fellows. Applicants will normally be college graduates.
Though our program focuses on pastoral training, Theopolis welcomes students who wish to deepen their understanding of Bible, liturgy, and culture for a vocation outside the church. We aim to train future lay leaders as well as future pastors.
Where do I go from here?
Theopolis is not a church and is not a denominational institution. Junior Fellows should initiate and cultivate close relationships with mentors within their own churches, who can help them find ministry opportunities after finishing the program. As far as possible, Theopolis Fellows will use their connections to place students in churches, ministries, and other organizations. Through the Visitors Program, Immersions, and Internships, Theopolis will provide many potential contacts for Junior Fellows to pursue in future work.
Over the years, we dream of creating an army of pastors, professionals, workers, and leaders on every continent, in every walk of life, in every denomination, all of them sharing a Theopolitan vision for Bible, liturgy and culture, each of them working in his or her local setting to build God's city in the midst of the world's cities.
How much does it cost?
The cost of the course will be $5000 per year. Prior to admission, Junior Fellows must show proof that they can pay for the course, and support themselves for the year or residence. Each applicant will be required to raise at least $2000 toward tuition from a home church, family, or personal network.
Two payment options are available: 1) Pay in full at the beginning of the academic year, in August; 2) Pay half at the beginning of the academic year, and half in January.
At this time, Theopolis cannot provide student housing and cannot offer work-study programs. Theopolis will assist students in locating affordable housing or boarding situations. Scholarships are available, but limited.